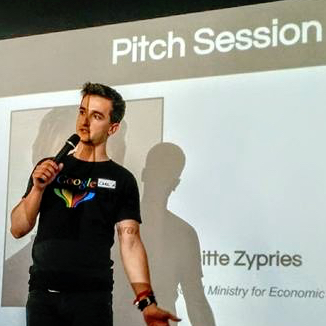 A few shots
Things I've built
Extracty

Turn any webpage into an API using an intuitive crawler builder.

Maschine Scanner

Machine learning application to identify construction machines.

Health Report

Analysis of millions of medical data endpoints.

Zwangsversteigerungen

React-Native App to find compulsory auction of properties.

REAMS UI

Java-FX interface of an intrusion detection system.

Personality Prediction

Deep Learning to predict personalities using Facebook data.

iOS Remote

iOS App to remote control your Mac and PC.

Might.Do

Calendar for all events you might want to attend.

mbrace

Dating app like tinder but with challenges.

HPI App

Corporate university app for HPI students.

MedMallorca

Listing of medical offers of Mallorca.

IntelliQ

Smart queueing system for phones and wearables.

Ambroselli IB - Web

Web page for an architecture company.

LTCRabbit

Crypto-mining pool statistics & account overview.

Splitbox.me

OTP encrypted sharing service using a cloud raid.
My Professional Background
Work Experience
January 2018 - Present
Forward Deployed Engineer
January 2018 - Present
Palantir Technologies
Technical oversight of Palantir's German government business.
---
October 2014 - 2018
Founder & CEO
October 2014 - 2018
Ambroselli GmbH
CEO of a software development and consultancy company based in Potsdam, Germany with many satisfied clients like Melitta, Daimler, Triumph-Adler, Zeppelin-Rentals, Klickrent, Voestalpine, Innovative Management Partner, Vostell Media and many others.
---
October 2014 - Present
Co-Founder
May 2016 - Present
MastermindLabs
Co-Founder & frontend engineer of a data extraction software that turns the web into an API.
---
October 2014 - July 2015
Web & R developer
October 2014 - July 2015
Elsevier Health Analytics
Development of an analysis software to gain knowledge from health data records of Millions of German patients by running studies on existing data.
---
February 2014 - December 2014
Student Research Assistant
February 2014 - December 2014
Internettechnologien und Systeme
Java Developer supportig two PhD students developing an intrusion detection system including attack path detection and visualization.
---
September 2013 - December 2013
iOS Developer
September 2013 - December 2013
mbrace labs
Leading development of the initial iPhone and iPad app from scratch to App Store. Handover to following co-developers and continuing support.
---
April 2013 - September 2013
JavaScript Developer
April 2013 - September 2013
Enterprise Platform & Integration Concepts
Integration of application performance management into the SAP HANA integrated development environment with XS engine.
---
2009 - 2014
Software Developer
2009 - 2014
Freelance
Freelance software developer for many customers like Clinica Picasso, Ulf's Cafe, Might.Do, Ozone Communications, Ambroselli-IB and others.
2016 October

-

2018 January
Hasso Plattner Institute
IT-Systems Engineering
IT-Systems Engineering
Educational Profile (Master of Sc.)
In the HPI Master of Science program I'm focussing on Machine Learning techniques. Learning Data Mining Algorithms in practical situations like developing a hate speech detection algorithm for German publishers or predicting personalities based on Facebook like data from over a million users, gives great insights into theory and practical applications of machine learning.
2012 October

-

2015 June
Hasso Plattner Institute
IT-Systems Engineering, final grade: 1.1
IT-Systems Engineering, final grade: 1.1
Educational Profile (Bachelor of Sc.)
HPI's degree program regularly earns the highest positions in the CHE (Centre for Higher Education Development) university ranking. With its emphasis on practical experience, the computer science program at Hasso Plattner Institute opens the right doors to excellent career opportunities in the much sought after IT field.
2004 September

-

2012 June
Otto-Nagel-Gymnasium
Abitur, final grade: 1.2
Abitur, final grade: 1.2
School Profile (Fast-Track Abitur)
The Otto-Nagel-Gymnasium introduced a learning concept with laptop classes. It also allowed me to skip the 8th grade (fast-track / "Schnellläufer").
Things I received
Awards & Prizes
Scholarship for "Studies Excellence"
Manfred-Lautenschläger Foundation, received by 20 students chosen out of 1.000 applicants.
Scholarship - E-Fellows
Selected as a scholar for the e-fellows business network.
Google Hashcode 2017, Top 2%
An engineering challenge from Google. My team and I scored 2.566.966 points ranking in the top 2% of all participants.
1st Place MLOVE HackCamp
MLOVE HackCamp Hackathon at Castle Beesenstedt.
1st Place Hack'n'Wear
Hack and Wear Hackathon by Accenture and SalesForce.
2nd Place Nightmare Competitor Challenge
Voestalpine Nightmare Competitor Challenge in Linz, Austria.
Finalist DefCamp CTF
Invitation to the finals during an international hacking & information security conference.
Microsoft Technology Associate
Microsoft certified for knowledge about database administration fundamentals.
Networks I'm in
Memberships
QX - Quarterly Crossing Member
Excellent leadership talents for joint support of professional and personal achievements.
MINT Excellence Network Member
Member of the carreer, business und research network of MLP.
Chaos Computer Club Member
Member of Europe's largest association of hackers.
HPI Security Club Member
Co-organizer of frequent practice sessions and attendance of international IT security competitions.
Presenting my work
Public presentations
Daimler South Africa Startup Tour
Speaker about digital marketing and rapid product evaluation
May 12, 2017
Melitta Digital Bootcamp
Organizer and speaker of a bootcamp session on lead pages, online marketing and influencer.
May 4, 2017
Voestalpine I²A Impulse Innovation
Speaker about Innovation and Startup Mindsets
April 26, 2017
Rethink! Corporate Finance Minds
Speaker about linked data and realtime data extraction.
April 28, 2016
Disruptive Technologies Conference
Speaker about data extraction and Mastermind APIs.
January 22, 2016
Bachelorpodium
Speaker about medicine 4.0 - saving 20.000 lives with big data.
July 6, 2015
SalesForce World Tour
Speaker about IntelliQ in front of a 3,000 people crowd.
July 2, 2015
HaL-7 Haskell conference
Speaker at Martin Luther University about Haskell use in schools.
July 13, 2012
Publications
Press Mentions
Einfach Genial, MDR
Television report on MDR about using the IntelliQ app as a smart customer queuing invention at a Cutman haircutter.
September 8, 2015
Dropbox official blog
Blog article about Splitbox and it's functionality.
October 8, 2015
Märkische Allgemeine Zeitung
Written article about how to solve queuing problems.
June 17, 2015
Potsdamer Neueste Nachrichten
Written article about the Bachelorpodium and the hackathon award at Hack 'n' Wear.
July 8, 2015
SAPanoptikum
Written article about the Hack 'n' Wear hackathon prize.
July 8, 2015
VDI Nachrichten
Written article about the IntelliQ functionality.
June 19, 2015
Prof. Dr.
Christoph Meinel

CEO & Director of HPI

Mr. Ambroselli is an excellent student, a talent for organization and a team player. I've made consistently very positive experience with him and would recommend him without reservation.

(translation, original text: "Herr Ambroselli ist ein exzellenter Student, ein Organisationstalent und Team Player. Ich habe durchgängig sehr positive Erfahrungen mit ihm gemacht und kann ihn uneingeschränkt empfehlen.")

Prof. Dr.
Felix Naumann

Professor at HPI

Carl Ambroselli was particularly noticeable as one of the most active students who was not afraid to participate in discussions. In the bachelor-project he is among the most out-spoken and talented students, who is always ahead of schedule and pressing to achieve more.

Lutz Urban

Former employer

His always polite and correct appearance and his great interest for all department tasks found a great recognition among all employees.

(translation, original text: "Sein immer höfliches und korrektes Auftreten sowie sein großes Interesse für die Aufgaben der Abteilung fanden bei den Mitarbeitern eine große Anerkennung.")

Grit Gitschel

Former employer

Carl Ambroselli distinguished by reliability, punctuality, helpfulness and quick work.

(translation, original text: "Carl Ambroselli zeichnet sich durch Zuverlässigkeit, Pünktlichkeit, Hilfsbereitschaft und schnelles Arbeiten aus.")